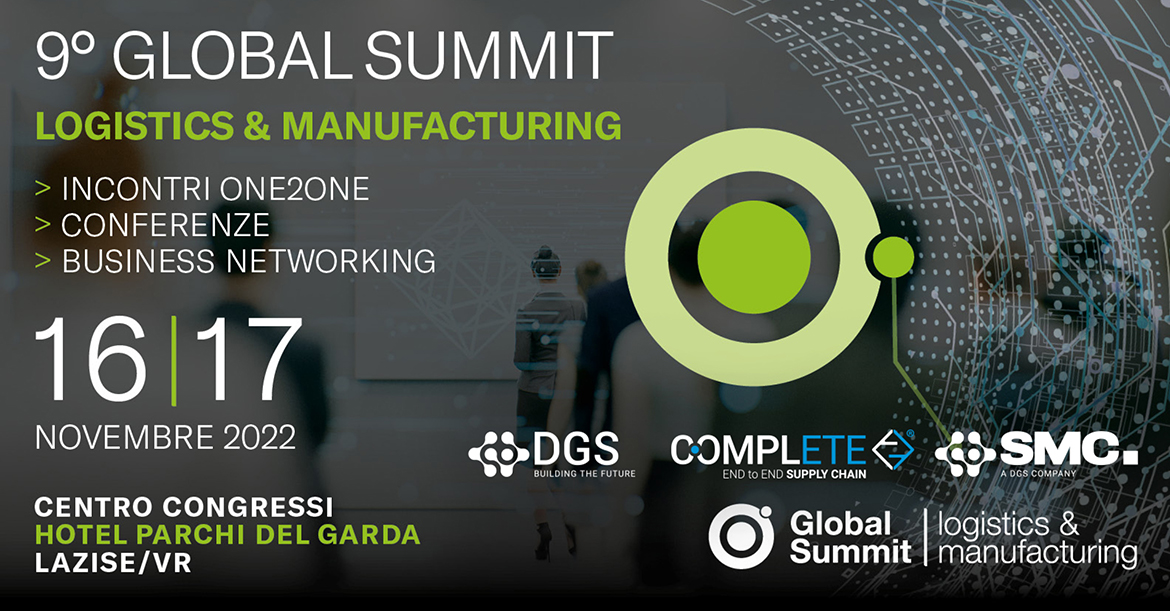 DGS at 9th Global Summit Logistics & Manufacturing | November, 16-17 2022
Also this year DGS, with SMC, is taking part in the 9th Global Summit Logistics & Manufacturing which is being held in Lazise on November 16 and 17.
The annual nationwide b2b event is dedicated to intra-logistics, manufacturing and Industry 4.0 with workshops, networking moments and one2one business matching meetings.
DGS and SMC experts are waiting to introduce you to the potential of the most innovative solutions serving the world of logistics and manufacturing, in particular: ComplEtE®, the revolutionary platform that can manage business planning through innovative Supply Chain Management models, and Open Square, the management and collaborative suite that enables data to be collected, organized and distributed to process actors, while also enhancing the value of submerged information.
On November 16 from 4:30 p.m. to 5:00 p.m. there will also be a speech by Emanuele Buscaglione, CEO of Sigit Group, entitled: 'Redesigning the factory process. DGS's ComplEtE® vertical solution to increase the efficiency of production systems across SIGIT Group's Italian and European plants'.
Read more about the event: Global Summit Logistics & Manufacturing (glmsummit.it)